ATE conducted a Membership Meeting on the New Minimum Wage Order 2022 & Environmental Social Governance (ESG) Policies & Practices on 26th January 2023 at Serena Hotel, in Dar es Salaam. The meeting comes after the issuance of the New Minimum Wage Order of 2022, published in Government Gazette Number 687 published on 25th November 2022.
Giving her opening remarks, ATE CEO, Ms. Suzanne Ndomba-Doran, thanked members for their continued support throughout 2022 and assured them that, the Association is looking forward to working closely with employers in addressing various issues related to employment, Labour and business. She commended that the issues of Environmental Social Governance (ESG) are important for businesses, hence  ATE  brought experts to present about ESG and provide a platform for companies to share their best practices.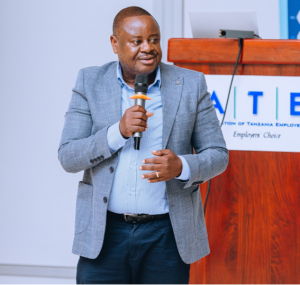 ATE Vice Chairperson, Mr. Felix Kagisa, thanked Employers and Stakeholders for attending the meeting and also reminded employers to honour their membership fee for the Association.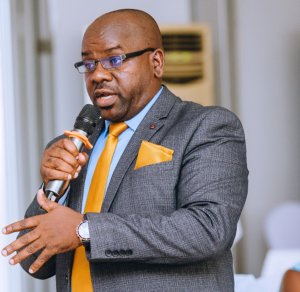 SGA CEO & Member of ATE Management Board, Mr. Eric Sambu gave feedback to employers on how employers they were involved in the process of developing the New Minimum Wage Order 2022.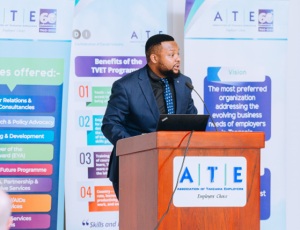 The representative from Dar es Salaam Stock Exchange (DSE), Mr. Ross Brighton Kinemo shared his experience with employers on how they have been practicing Environmental Social Governance as well as help their members to practice and report on ESG.
ATE Economist, Mr. Innocent John, presented on  the  New Minimum Wage Order and its implications to employers and businesses.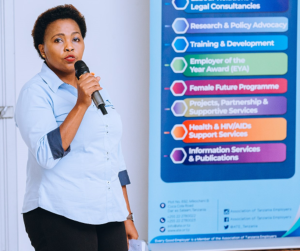 ATE Head of Membership & Marketing, Ms. Patricia Chao, invited members to participate in ATE membership activities and events such as the upcoming Annual Leadership Conference 2023 to be held on 2nd March 2023.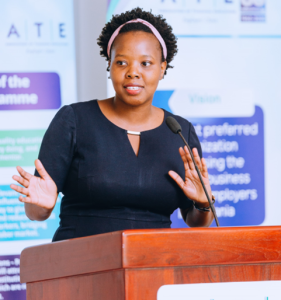 ATE Head of Legal Services, Adv. Mercy– Grace Seuya  who was moderating the session used that opportunity to invite members to access ATE legal services such as the legal clinic that was going on during the meeting.